JLM Handyman Services:
Jose from JLM Handyman Services is A certified and highly-awarded handyman and a mastermind behind this company, Jose L Martinez is the sole craftsman handling each aspect of home maintenance and repair. Ranging from plumbing to electricity, property management, or repairing service, I have over 23 years of experience in the field. I'm a multi-disciplinary professional handyman offering services through a dynamic and dedicated approach to improving your home and repairing it to perfection.
Through years of experience, I'll be able to deliver high-quality craftsmanship without being harsh on the client's pockets. I've managed to grasp the knowledge and resources to handle everything around the house inclusive of carpeting, appliance removal and repairing, tub reglazing, snow removal, plumbing, and trash removal. Every service is handled with ultimate professionalism to ensure the delivery of effective results in a promised timeline.
Jose L Martinez is laying the foundations of service provisions for the sole reason of bridging the gap between service provision and quality. I've managed to surpass the client's expectations through the implication of a stanch approach, making me the most trusted handyman in the town. The reason for my success lies in the respect I hold for my clients. The one-call solution ought to provide uniform perfection through well-crafted service.  TO BOOK AN APPOINTMENT CLICK HERE
My professional reliability and quality craftsmanship help me complete the job to the ultimate core, and no matter when you need my help, I'll be available to conduct the job with intricacy. I'm not offering these services from the pickup truck, which speaks volumes regarding my professional resources. Be it the repairing or organization, installation, or assembly, I handle each job efficiently and promise to clean up after completion.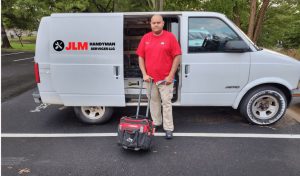 My pledge describes that I will treat your home like mine ensuring integrity, professionalism, and transparency is the top priority. I consider myself the handyman that you can trust and call in during any repair or maintenance emergency. While offering the services, I ensure keeping your security at top priority through the utilization of protective material. Last but not least, my services have zero hidden costs promising reasonable services. So, pick a time and call me right away!
TO BOOK AN APPOINTMENT CLICK HERE
[trustindex no-registration=google]