Home Repairs Near Me: Minor Home Repairs
It can be challenging to keep a house safe and healthy, especially on a fixed income. Minor Home Repair provides health and safety-related repairs that low- and moderate-income older and disabled homeowners are unable to complete due to a lack of funds or because they are physically incapable of doing the repairs themselves.
JLM Handyman Services has more than 23 years of experience in the maintenance and repair sector. It has worked for numerous property management firms in Maryland and has overseen apartment complexes with more than 500 units. Our goal is to make it possible for people to live in their homes for as long as possible.
You could make a tonne of home improvements to raise the value of the property. It's important to keep in mind the areas of your house that require repairs the most, then order the list according to which home repairs near me will increase your home's marketability the most.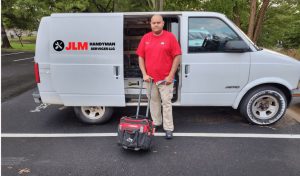 What Is a Minor Home Repair Service?
A minor repair is routine maintenance performed on an existing building, facility, use, piece of land, or piece of equipment. It typically entails cosmetic work or the replacement of component parts that are like for like, and it has little to no effect on the land or other natural or cultural resources.
Every homeowner has a to-do list of inside and outside as well as interior and exterior home improvement, maintenance, and repair projects. Who, though, has the time or patience to complete everything themselves in the modern world of hectic lifestyles? Our Handyman Services offers a variety of remodeling, repair, and improvement services that can make your home run more efficiently.
Minor home repairs are typically too critical to be handled by a contractor, but JLM Handyman Services' knowledgeable and skilled staff can perform them. Minor home repairs are provided at reasonable hourly rates by our maintenance team for our senior citizens. Our team visits the client's home, offers an estimate, and then resolves the problem, letting the customer relax and stop worrying about it.  BOOK AN APPOINTMENT HERE
Which Repairs Are Classified As Small Home Repairs?
Our team assists in ensuring the safety and comfort of our seniors in their homes, from minor fixes that keep them safe to exterior repairs. Check home repairs near me to get JLM handyman services. This list basically highlights just a few of the many ways our team of talented handymen can help our seniors who reside in their homes.
plumbing repair
Minor carpentry
Drywall & Painting
Fixing windows and doors.
Choosing weatherization
Electrical Repairs
Grab bars and handrails.
Doors lock
Carbon monoxide and smoke detectors.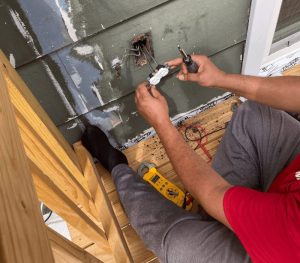 Cost of Minor Home Repair
It's simple to assume that hiring a handyman will be less expensive than working with a contractor, but this belief is only valid in certain circumstances. Handyman services are used to make numerous small repairs around the house and can be less expensive as a result. If, however, you have a single, complicated issue, a specialist is usually the best option.
Hiring a handyman is likely your best option, for instance, if your faucet drips or your stairs squeak. On the other hand, you're better off hiring a pro if you have a full set of stairs to replace or a house full of outdated two-pronged outlets.
The logic is straightforward. It will be less expensive to have a single handyman service handle a number of small home repairs than to hire three or four specialists. Using our Minor repair services will undoubtedly be the right choice for you. Simply search for home repairs near me, and we'll be there to help.
[trustindex no-registration=google]