JLM Handyman Services: Your Trusted Partner for Home Repairs and Improvements in My Area
Introduction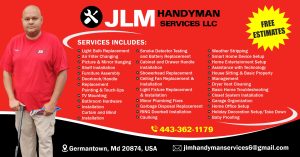 When it comes to maintaining and enhancing your home, finding a reliable and skilled handyman service is paramount, especially when you're searching for a "handyman in my area." At JLM Handyman Services, we understand the importance of a well-maintained and comfortable living space. Our mission is to provide top-notch handyman services to homeowners, property managers, and businesses in [Your Location] and the surrounding areas.
Why Choose JLM Handyman Services?
1. Expertise and Experience
With over 10 Years of experience in the industry, our team of handymen boasts a wealth of expertise in various aspects of home repair and improvement. Whether it's fixing a leaky faucet, installing new lighting fixtures, or tackling more extensive remodeling projects, we've got you covered as the trusted handyman in my area.
2. Versatility
Our handyman services cover a wide range of tasks, including but not limited to:
-Light Bulb Replacement**: Keep your home well-lit and energy-efficient with our light bulb replacement service.
Air Filter Changing**: Ensure clean air in your home by regularly changing air filters.
Picture & Mirror Hanging**: Enhance your home's decor with professionally hung artwork and mirrors.
Shelf Installation**: Maximize storage and display space with expertly installed shelves.
Furniture Assembly**: Save time and frustration by having us assemble your furniture correctly.
Doorknob/Handle Replacement**: Upgrade the security and aesthetics of your doors with new knobs and handles.
Painting & Touch-Ups**: Refresh your home's interior or exterior with our painting and touch-up services.
TV Mounting**: Enjoy a cinematic experience with perfectly mounted TVs.
Bathroom Hardware Installation**: Enhance the functionality and style of your bathroom with new hardware.
Smoke Detector Testing and Battery Replacement**: Ensure your family's safety with regular smoke detector maintenance.
Curtain and Blind Installation**: Add privacy and style to your windows with professionally installed curtains and blinds.
Cabinet and Drawer Handle Installation**: Give your kitchen and cabinets a facelift with new handles.
Showerhead Replacement**: Upgrade your shower experience with a new showerhead.
Ceiling Fan Replacement & Installation**: Stay comfortable year-round with our ceiling fan services.
Light Fixture Replacement & Installation**: Illuminate your space with beautiful and efficient lighting fixtures.
Minor Plumbing Fixes**: Address plumbing issues quickly and efficiently.
Garbage Disposal Replacement**: Keep your kitchen running smoothly with a new garbage disposal.
RING Doorbell Installation**: Enhance your home security with a RING doorbell installation.
Caulking**: Seal gaps and cracks to prevent leaks and drafts.
Weather Stripping**: Improve energy efficiency by installing weather stripping.
Smart Home Device Setup**: Make your home smarter with expert setup of smart devices.
Home Entertainment Setup**: Create the ultimate entertainment space with our setup services.
Assistance with Technology**: Get help with setting up and troubleshooting technology in your home.
House Sitting & Basic Property Management**: Trust us to care for your home when you're away.
Dryer Vent Cleaning**: Prevent fire hazards and improve dryer efficiency with regular vent cleaning.
Basic Home Troubleshooting**: We'll find and fix issues throughout your home.
Closet System Installation**: Maximize your closet space with a custom system.
Garage Organization**: Declutter and optimize your garage space.
Home Office Setup**: Create a productive home office environment.
Holiday Decoration Setup/Take Down**: Enjoy the festive season without the hassle of decorating.
Baby Proofing**: Ensure a safe environment for your little ones with our baby-proofing services.
3. Quality Assurance**
We take pride in our work, and our commitment to quality is unwavering. When you choose JLM Handyman Services, you can rest assured that your project will be completed to the highest standards of craftsmanship, right here in "my area." We use top-quality materials and employ best practices to ensure lasting results.
4. Timely and Reliable Service
We understand that your time is valuable, and we respect your schedule, especially when you're looking for a "handyman in my area." Our team is known for its punctuality and efficiency. We'll complete your project within the agreed-upon timeframe, with minimal disruption to your daily life.
5. Customer Satisfaction
Our ultimate goal is your satisfaction. We prioritize open communication with our clients, ensuring that your ideas and concerns are addressed promptly. Our dedication to your happiness is reflected in the countless satisfied customers who continue to choose JLM Handyman Services as their trusted "handyman in my area."
Contact Us Today
Whether you have a specific home improvement project in mind or need assistance with a repair, JLM Handyman Services is your trusted partner for "handyman in my area." We're committed to making your home a better place to live, one project at a time.
Don't hesitate to reach out to us at [Your Contact Information] or via our website at [Your Website URL] to schedule a consultation or request a free quote. Let us take care of your home, so you can enjoy the benefits of a well-maintained and beautiful living space.
Remember, when it comes to handyman services in Germantown, MD 20874, JLM Handyman Services is the name you can trust. Your satisfaction is our guarantee!